Make every field tech an expert
Connect to remote experts and artificial intelligence (AI) to improve first-time resolution rates, boost customer satisfaction, and save on travel costs.
Now offering expanded certification compliance for medical, clean room, and other demanding environments.
Transform Field Service with Vuzix
The field service industry is experiencing major upheavals as machines that need servicing are becoming more complex. Plus, an estimated 60% of the workforce is set to retire soon.
Vuzix augmented reality (AR) smart glasses help connect technicians in the field to AI databases and remote specialists, providing them with heads-up, hands-free support and training that improves overall productivity and safety.
Reduce Costs with Faster Fix Rates
Improve resolution rates by putting key information in a worker's field of view.
Improve Compliance with Protocols
Provide step-by-step instructions and training in the field to reduce error rates.
Accelerate Customer Response Times
Reduce downtimes required for maintenance, repairs, and upgrades.
Get the Right Experts on the Job
Access experts remotely to gain technical support while minimizing travel costs.
Real Time Support for Complex Tasks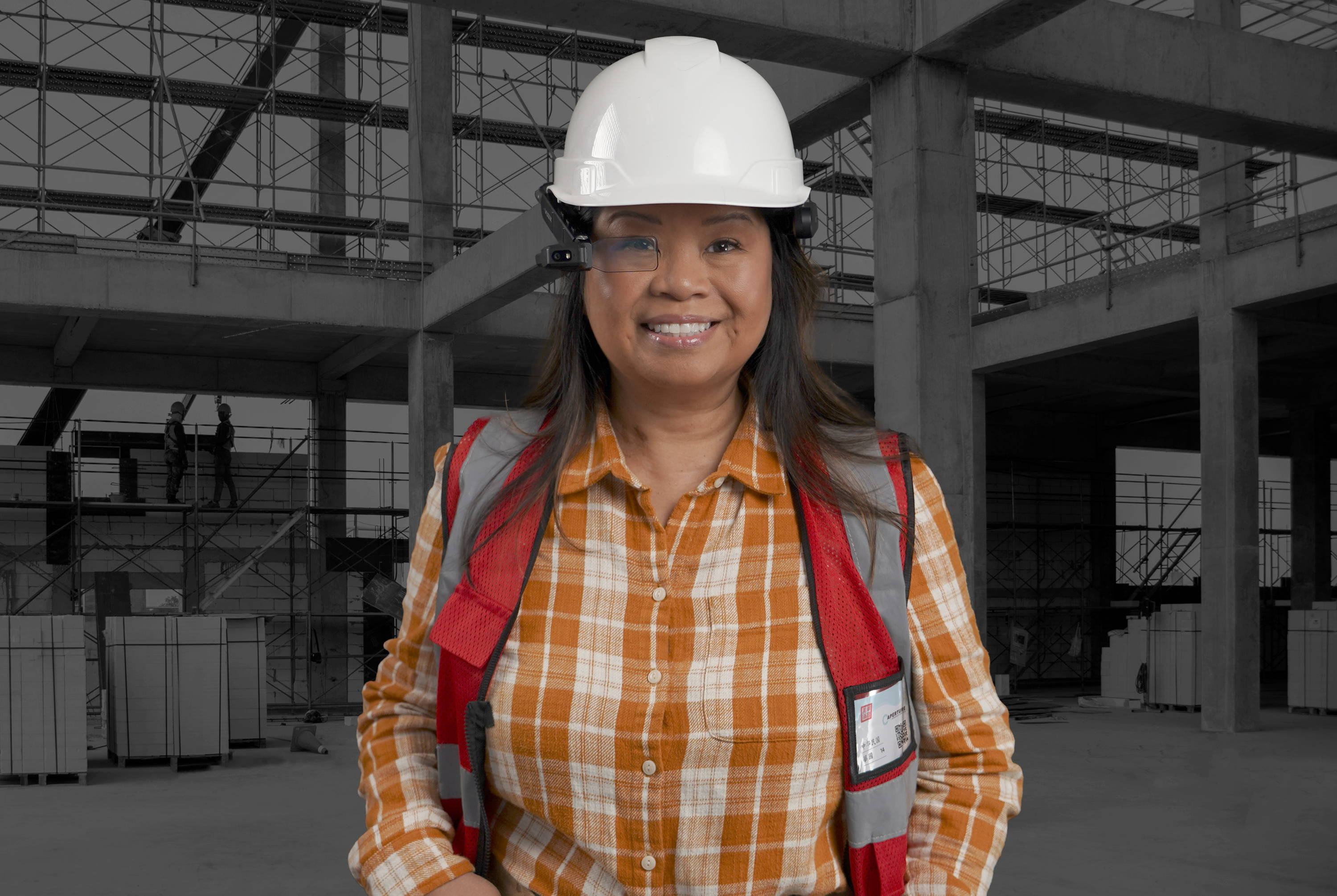 As technologies keep advancing, technicians are responsible for servicing a large range of products of increasing complexity. With Vuzix field services smart glasses, workers in the field can access task-based information directly in their line of vision — heads up and hands-free. 
And they can quickly connect to experts remotely, eliminating the need for costly travel and providing speedy resolution to tough issues.
Increased Automation, Fewer Errors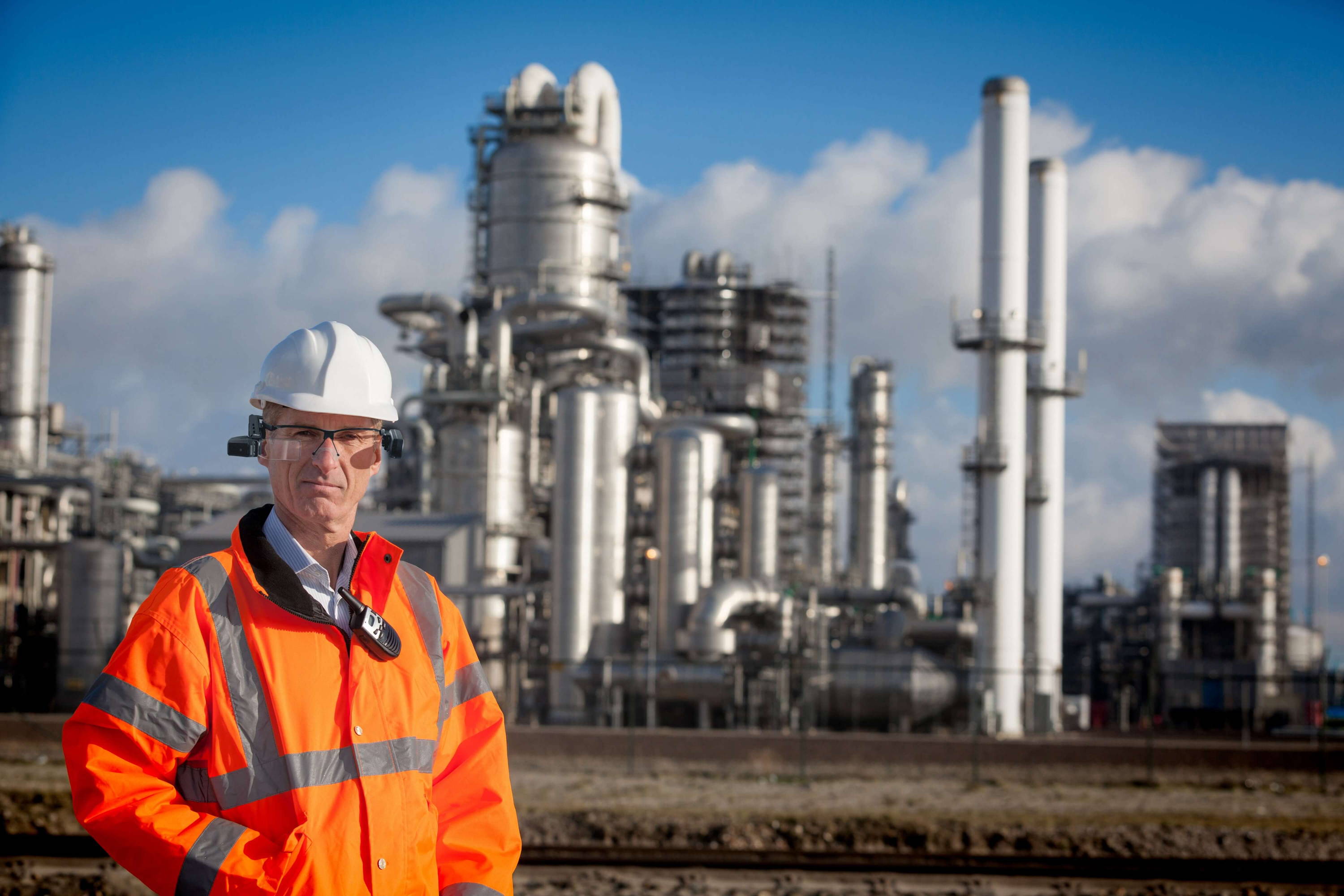 Many field technicians must still consult paper manuals and rely on manual documentation. This can increase workflow inefficiencies and error rates. 
Vuzix AR glasses for field service enable easy audio and visual documentation. Best of all, they provide a hands-free, intuitive interface between your company's digital content — detailed instructions, diagrams, and videos — and technicians in the field.
Real-Time Training and Guidance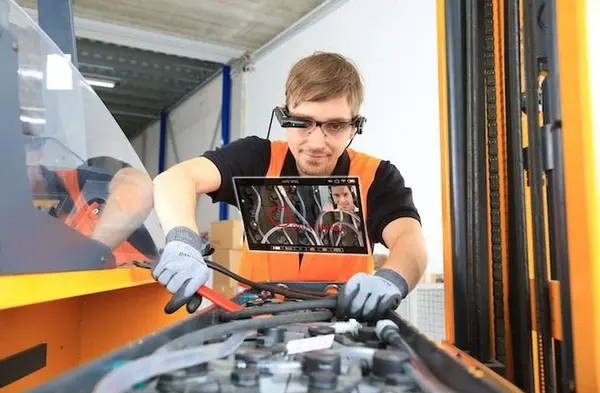 It's estimated that 25% of service calls require follow-up visits. This is often due to a lack of training, experience, and access to information. 
With Vuzix AR glasses for field service, training and courses can take place remotely, delivered directly to a single location or to multiple sites. Technicians can receive on-the-job, interactive training and supervision simultaneously from instructors or senior personnel.
Watch our field service call webinar

See how easy it is to use smart glasses to fix a control panel – or anything – from miles away using real-time visual virtual assist in this live recorded field service call.
Watch our field service call webinar

See how easy it is to use smart glasses to fix a control panel – or anything – from miles away using real-time visual virtual assist in this live recorded field service call.
Vuzix m4000 Smart Glasses
Vuzix M4000 smart glasses help field service workers improve productivity by letting them access critical content with AR displays; document steps and resolve issues; and livestream remote support — all hands-free. 
Lightweight and durable, our field services smart glasses use waveguide technology so that users can keep focused with see-through displays that let them maintain awareness of their surroundings.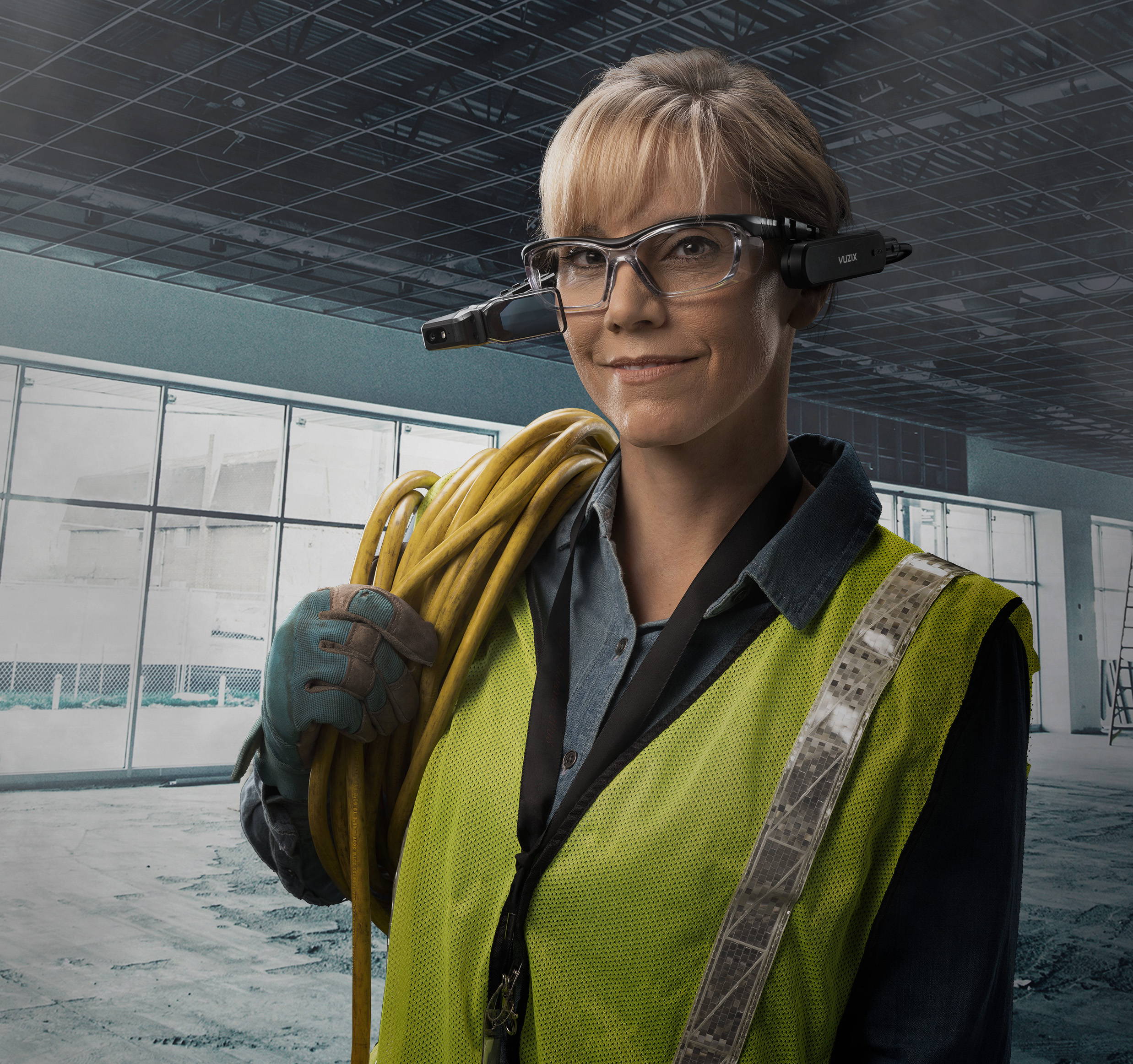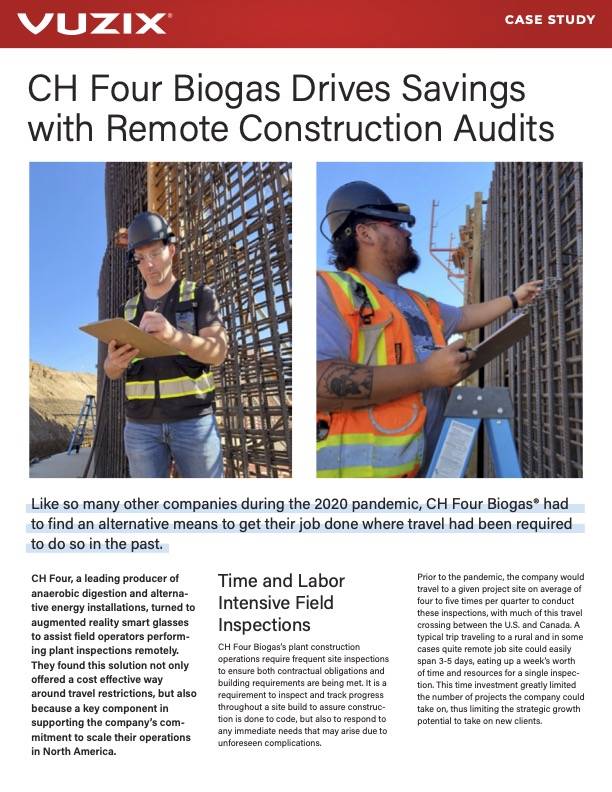 CH FOUR BIOGAS CASE STUDY
Learn how CH Four Biogas, a leading producer of anaerobic digestion and alternative energy installations, is driving savings with remote construciton audits.
Resources for Field Service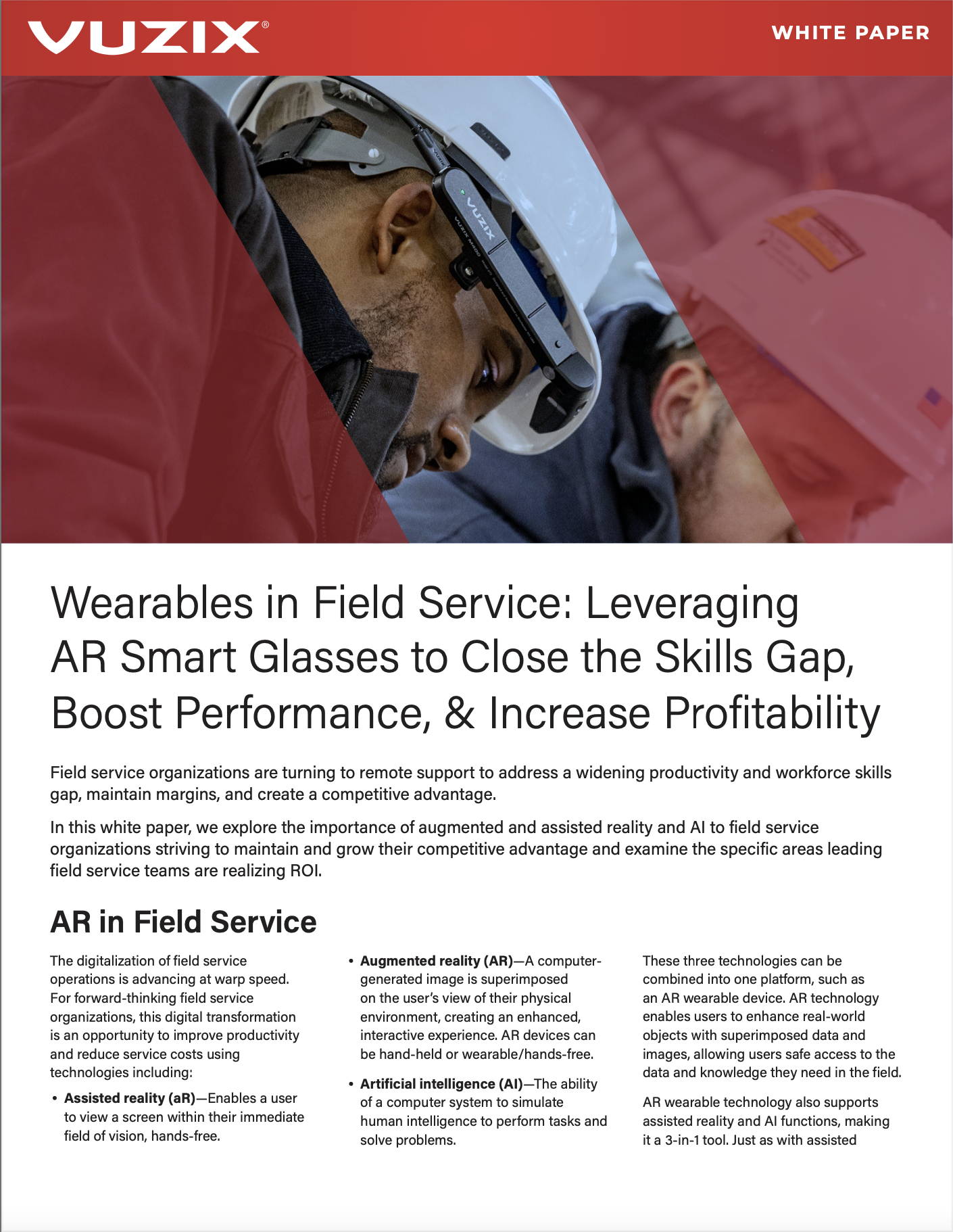 Leveraging
AR Smart Glasses In Field Service
Learn about the importance of AR to field service organizations striving to maintain and grow their competitive advantage, while continually increasing ROI.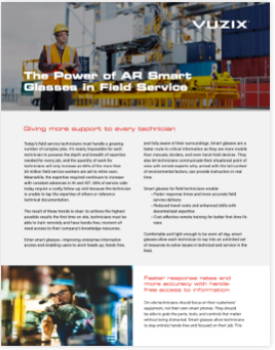 FIeld Service AR learnings paper
Discover how other smart companies are realizing the benefits of augmented reality with their field service teams, and how you can do the same.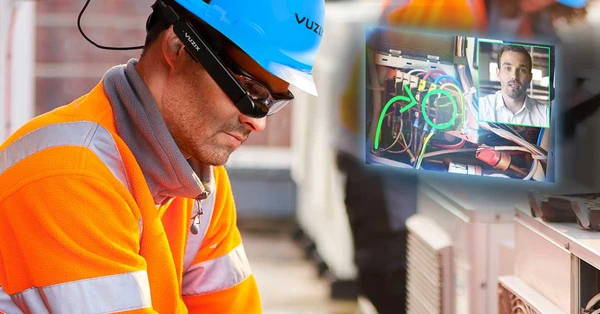 Vuzix Leads in Assisted and Augmented Reality
As a global leader in assisted and augmented reality, Vuzix is helping transform companies with intuitive, hands-free digital devices that boost productivity.
Take our product finder quiz to assess your needs and find the best smart glasses for your company.
See Vuzix AR Smart Glasses for Field Service


Learn how easy it is to integrate Vuzix smart glasses into your field service operations so that you can improve customer satisfaction and lower costs.
Our smart glasses are the most comfortable on the market — but don't just take our word for it! Try them on and see for yourself.