Fully Connected, hands-on care
"Smart glasses should be as ubiquitous as a stethoscope."
—R. Brent Wright, MD, MMM
AR INTEREST AND ADOPTION IN SURGERY
Explore survey insights from over 500 surgeons
Future-Forward: See-what-I-see Telemedicine
Telemedicine is the new normal for medical practitioners, enabling positive outcomes while saving time and money. Vuzix solutions for telemedicine allow you to safely administer to patients without compromising the quality of care.
With Vuzix smart glasses, caregivers can instantly share medical expertise with other practitioners around the globe, providing life-saving guidance from anywhere. Send and receive live expert medical feedback without jeapordizing the level of patient care.
Easily access patient documentation hands-free with voice-controlled commands.
Expand Your Knowledgebase
Access medical libraries faster and on demand with decentralized, global expertise.
With patient data privately in view, you can optimize client interactions.
Give Cost-Effective Remote Guidance
Relay instructions to care practitioners and record treatments for training purposes.
Offer a Higher Level of Precision
Monitor vital signs without needing to take your eyes off the patient.
Share Knowledge When It Matters
Share your view with experts to improve outcomes and get live input.
Vuzix M4000 for Telemedicine
The M4000 brings you superior design, cross-platform functionality, and a battery you can count on. Join the medical professionals who wear our M4000 smart glasses during surgeries for 16+ hours straight.
Vuzix M4000 smart glasses are:
HIPAA-compliant and IP67 rated
Built with market-leading waveguide optics providing see-through display
Designed to work with medical personal protective equipment
IEC60601-1-2:2014 certified medical electrical equipment
IMMEDIATE FEEDBACK FOR EXCELLENCE IN THE OPERATING ROOM
Learn how Vuzix smart glasses help surgeons make critical measurements correctly the first time, every time. AR technology in the operating room enables higher quality patient results by eliminating the margin of error.
Vuzix Telemedicine IN THE NEWS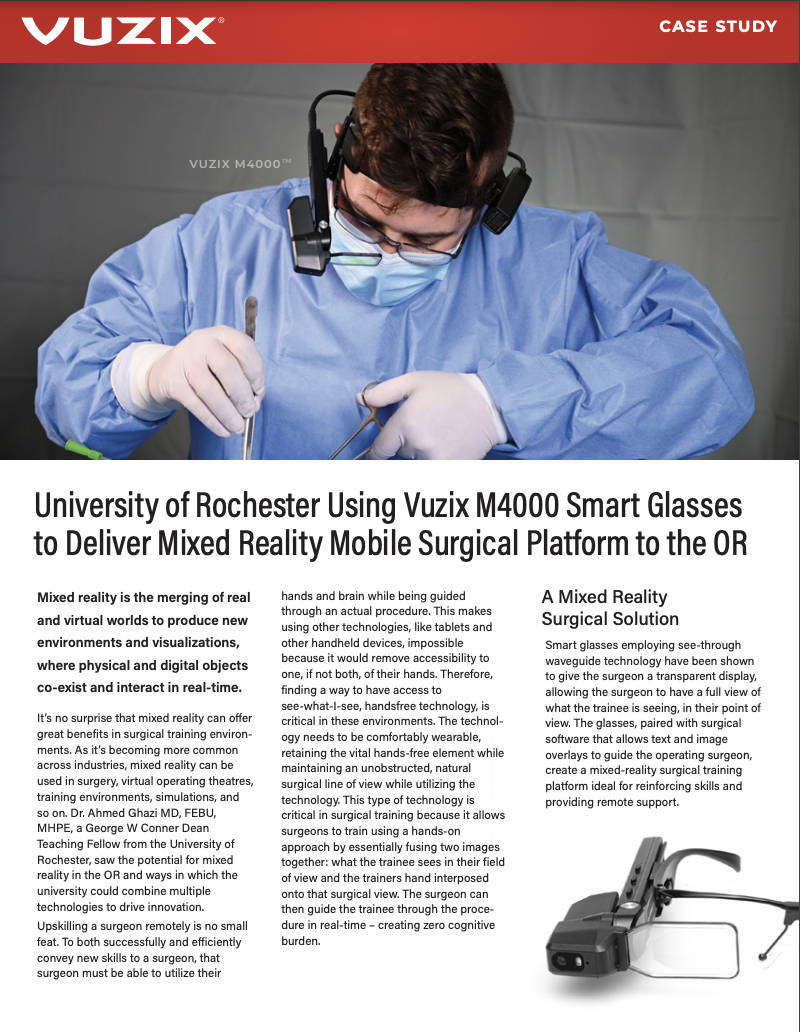 M4000 SMART GLASSES DELIVERING MIXED REALITY MOBILE SURGICAL PLATFORM IN THE OR
Learn how the University of Rochester is using mixed reality in the operating room and utilizing see-what-I-see technology to mentor and train other surgeons or surgeons-to-be.
RESOURCES FOR AR SMART GLASSES IN TELEMEDICINE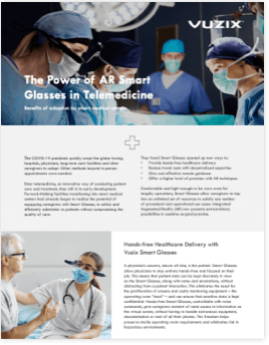 Telemedicine AR LEarnings Paper
Find out how Vuzix AR solutions are giving smart medical centers and caregivers better success rates and higher quality patient care, while delivering a substantial cost savings.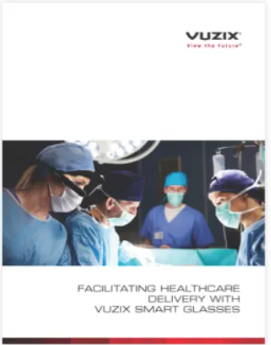 Vuzix smart glasses are facilitating a new kind of healthcare. This white paper uncovers the current telemedicine landscape and explores the value of AR.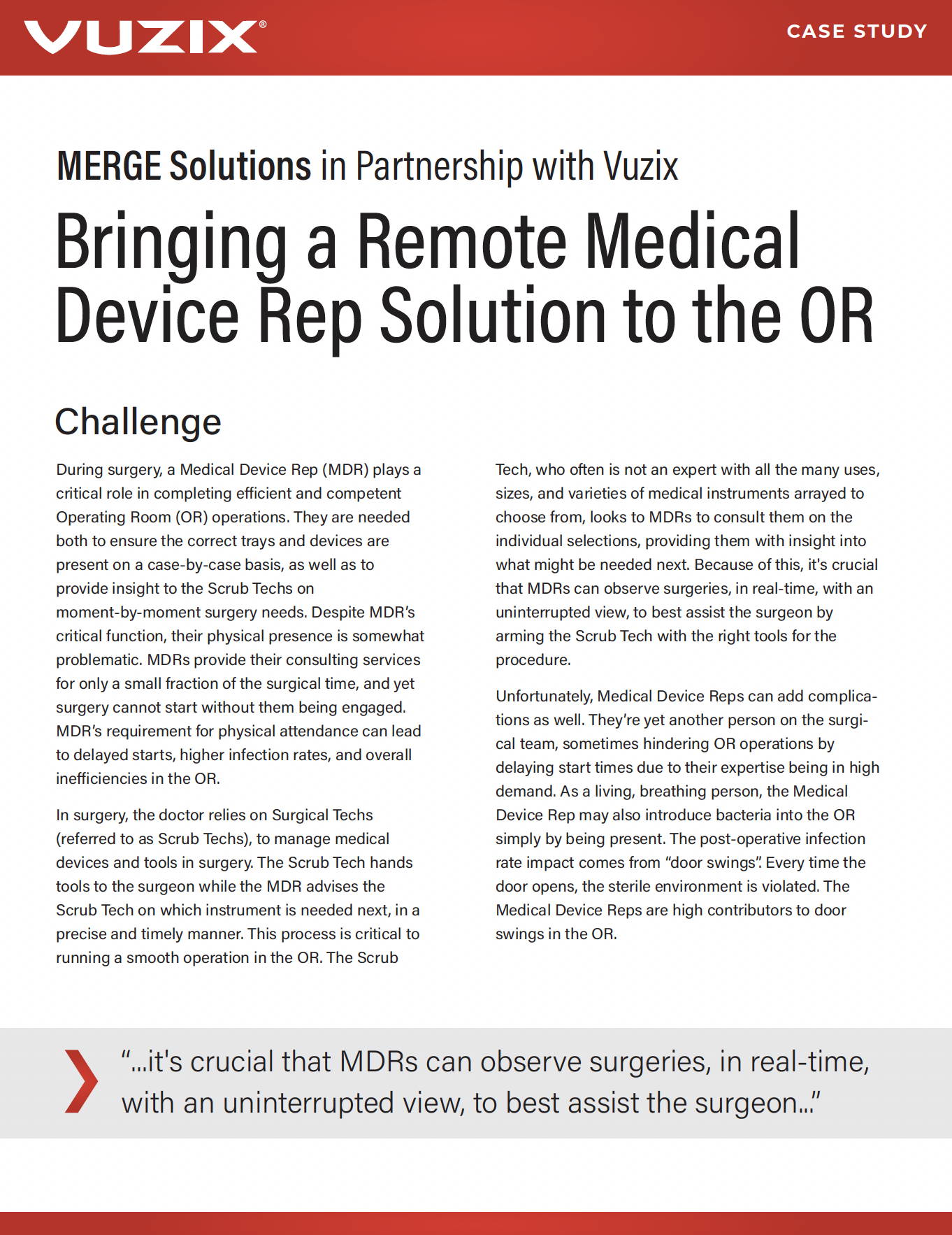 mERGE soLUTIONS cASE study
Learn how MERGE Solutions utilizes Vuzix M400 smart glasses to enhance operating room efficiencies, access real-time video feed, and allow direct audio communication between the operating room and the remote device rep.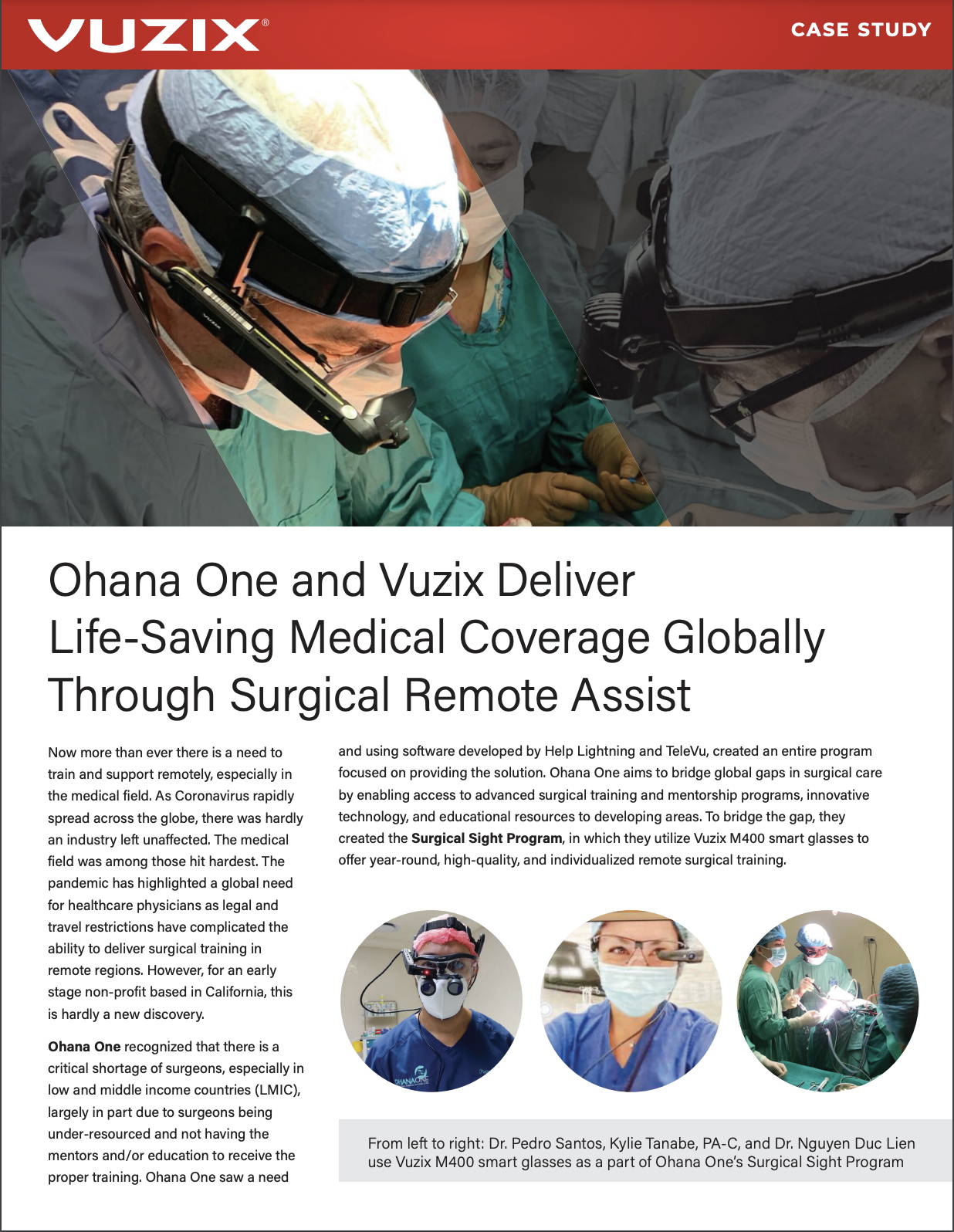 Vuzix smart glasses are facilitating a new kind of healthcare. This case study shows how Ohana One is utilizing smart glasses to provide surgical guidance from anywhere.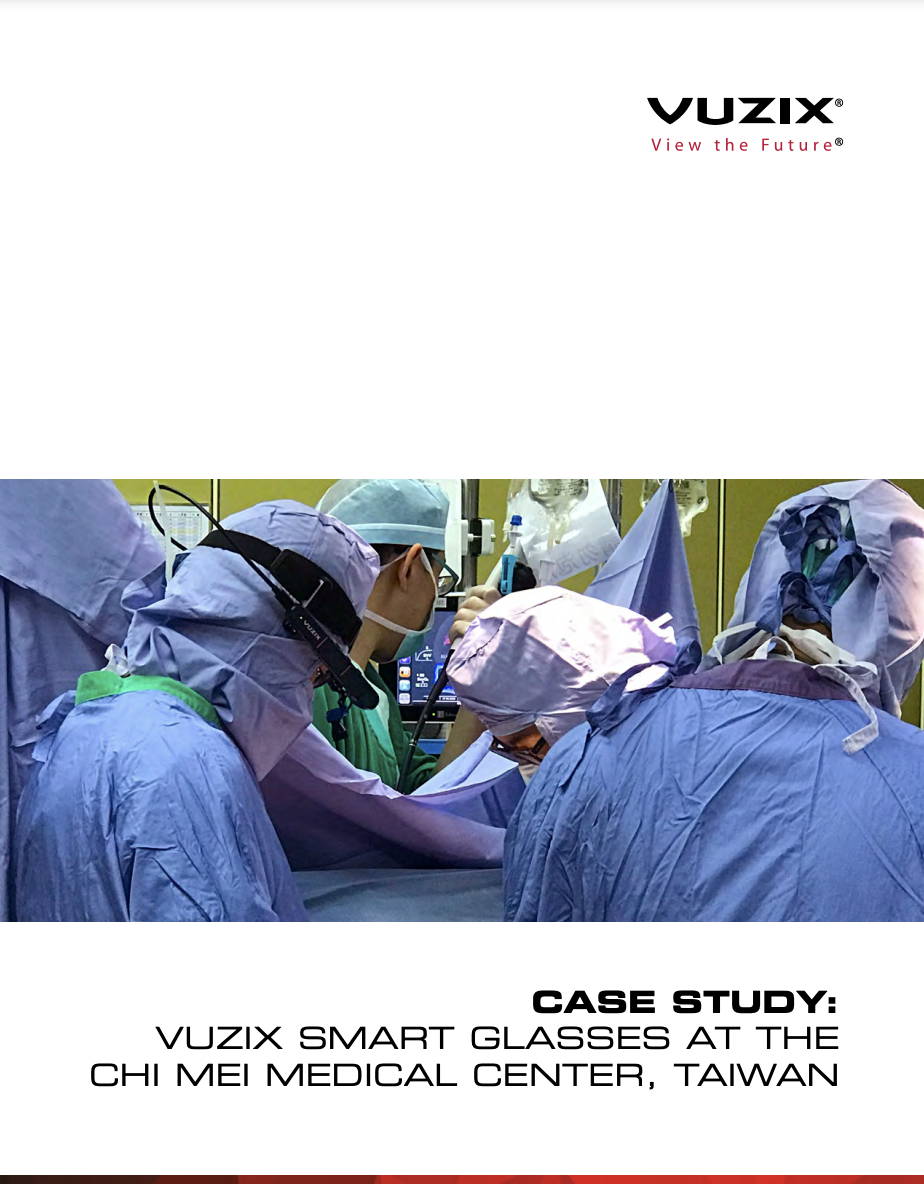 HealthCare Case Study: Chi Mei
Learn how Vuzix smart glasses are utilized at Chi Mei Medical Center in Taiwan to enhance patient care, save time in the ER, and assist physicians during surgical procedures.
Take our product finder quiz to assess your needs and find the best smart glasses for your company.
See Vuzix Smart Glasses for Telemedicine


Learn how easy it is to integrate Vuzix smart glasses into your medical network so that you can safely administer the highest-quality care.
Our smart glasses are the most comfortable on the market — but don't just take our word for it! Try them on and see for yourself.